Again hiring a guide pays dividends
As written in last article my dad and myself had just returned from a bass fishing trip on Lake Guntersville in northeast Alabama. This lake is around 55 miles long and about 60,000 acres. Where does a person start? Yes maps do help along with GPS and a depth finder. But when you are on vacation you want to catch fish and have a place to start.
This year we turned to a guide by the name of Brent Crow out of Hartselle, Alabama.
Brent was a great guide and put us on fish from the start and the entire day. He picked us up at our cabin around 6:30 in the morning. Funny thing was it 64 degrees out and he was cold, I guess that happens when your from the south. We launched the boat and rode to a spot about 5 to 6 miles up the lake. We caught fish at the first spot.
After fishing for a bit, we moved. He continued to take us to several spots through out the day. We caught fish if not at every spot, almost at all of them.
Not only did he show us spots to hit, he also turned us on to a new soft plastic lure and furnished them as well along with the hooks. He even had my dad use one of his bait casting rod and reels. During our guided fishing trip, our knowledgeable guide not only showed us the best spots to hit but also provided us with expert advice on the best equipment and techniques to use. He introduced us to a new soft plastic lure, and even provided us with the hooks to use it effectively. Additionally, he generously let my dad use one of his top-of-the-line baitcasting rods and reels, which made a huge difference in our success.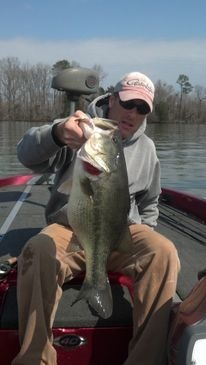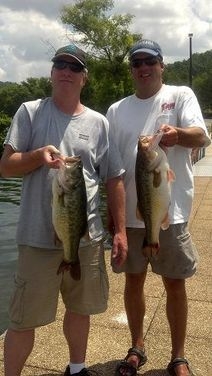 Brent was a very friendly and knowledgeable bass fisherman. He was a great person to hang with on the lake. If you hire a guide, not only is his knowledge important but also so is his personality. You don't want to be stuck on a boat all day with someone you don't get along with, and he had us on the water for nine hours. When it was done, my dad and I did not want to quit, we had a blast that day.
Following our excursion our guide marked the spots we had fished on our map and then some other spots we could try as well. There were a couple of spots that he had put us on that produced fish the entire week, it was incredible.
If you ever get a chance to fish Lake Guntersville and want to hire a guide I highly recommend contacting Brent Crow. Check out his website at www.northalabamabass.com He also guides on Smith Lake, Pickwick Lake, Wheeler Lake and Wilson Lake.
Terry Ellis
www.bigbassaddict.com
"Had a blast on Smith with Brent Crow today!"
I've know Brent since he was born as his mother and I taught together and I taught him. He's been telling me about the bite on Smith and we got together for a very enjoyable trip today. A good change of pace from Guntersville.
I keep up with tackle and techniques pretty good for an old guy, but I have learned a lot in 2 trips with Brent. "Learned a lot" is an understatement. I've learned more in two trips than I have from all the magazines and net stuff I read in a year. He does stuff that really works, especially in clear water. He's "connected" to many of the pros and he and his pro friends share a lot of info and is on the cutting edge of all the new stuff they do. Every time we go or I talk to him, I am on the net ordering new stuff. Got to watch it or the little lady is going to ban him from my friend's list. Thanks for a great trip Brent and for sharing your knowledge. The teacher has become the student.
What a Great Guide! Just want to echo the comments posted above and put in my 2 cents worth. Brent is a wonderful person to be in the boat with and the results of a trip with him speak volumes about his fishing knowledge. This is the second time we have been out with Brent, He took myself and my elderly Father out on Smith Lake and on a high pressure bluebird sky kind day we boated over 40 fish and lost several others! WOW! Brent is very patient and kind in the boat, he really took care of My Dad even when some very bad casting was going on (-: I buy these trips with Brent as a Birthday and Father's day gift for my Dad, I can't think of a better way to spend ones money than on a memorable fishing trip with a loved one and hiring Brent as your guide is a great way to make sure that happens! I Highly Recommend Him!
I had the opportunity to spend the day with Brent on Smith Lake, I must say it was quite an experience he really knows the lake and the fish. We started out chasing fish on a cool cloudy morning, which changed into a brief rain shower and then some much needed sun appeared. At the end of the day I had lost count of the Spots and Stripes we had caught. I had lost what Brent said to be a 5 lb spot and caught several over 3lbs. The stripe were just a bonus. I wanted Brent to show me around the lake and how to catch some spots. He took time explained what we were doing and the reason we were doing it, he even let me use his favorite rod and reel. Hes more than just a guide, hes a true teacher and you can tell he loves what he does. It wasnt just another day at the office for Brent you can tell. I highly recomend Brent for all your fishing needs, he can teach you how to fish or he can just put you on the fish. Thanks for a Great Day on the Water.